Last week Zydrunas Ilgauskas became the the Cleveland Cavaliers all-time leader in offensive rebounds. Being the leader in any cumulative category for a team that's been around for 37 years is a big deal.
Z has been on the Cavs longer than any other player in history with 11 years in tow. By the time he is done he should be the all-time leader in several categories.
To keep perspective, look how much he's changed. I try and use the earliest available picture I can find of the player when they begin their Cavaliers tenure. Just looking at the difference of what he looked like when he first suited up at 20 (before he went off for his first surgery) and what he looks like now lets you now how long he's been here.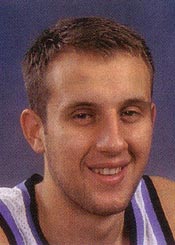 On a personal note, Z is one of my all-time favs. A guy who has really embraced Cleveland as his second home. His quote of "…I couldn't sign with another team because I'd be checking the box scores to see how the Cavs did…" let me know that he plans on retiring here as well.
If LBJ and crew can secure a Championship before Z hangs it up, I can easily see number 11 hanging up in the rafters.